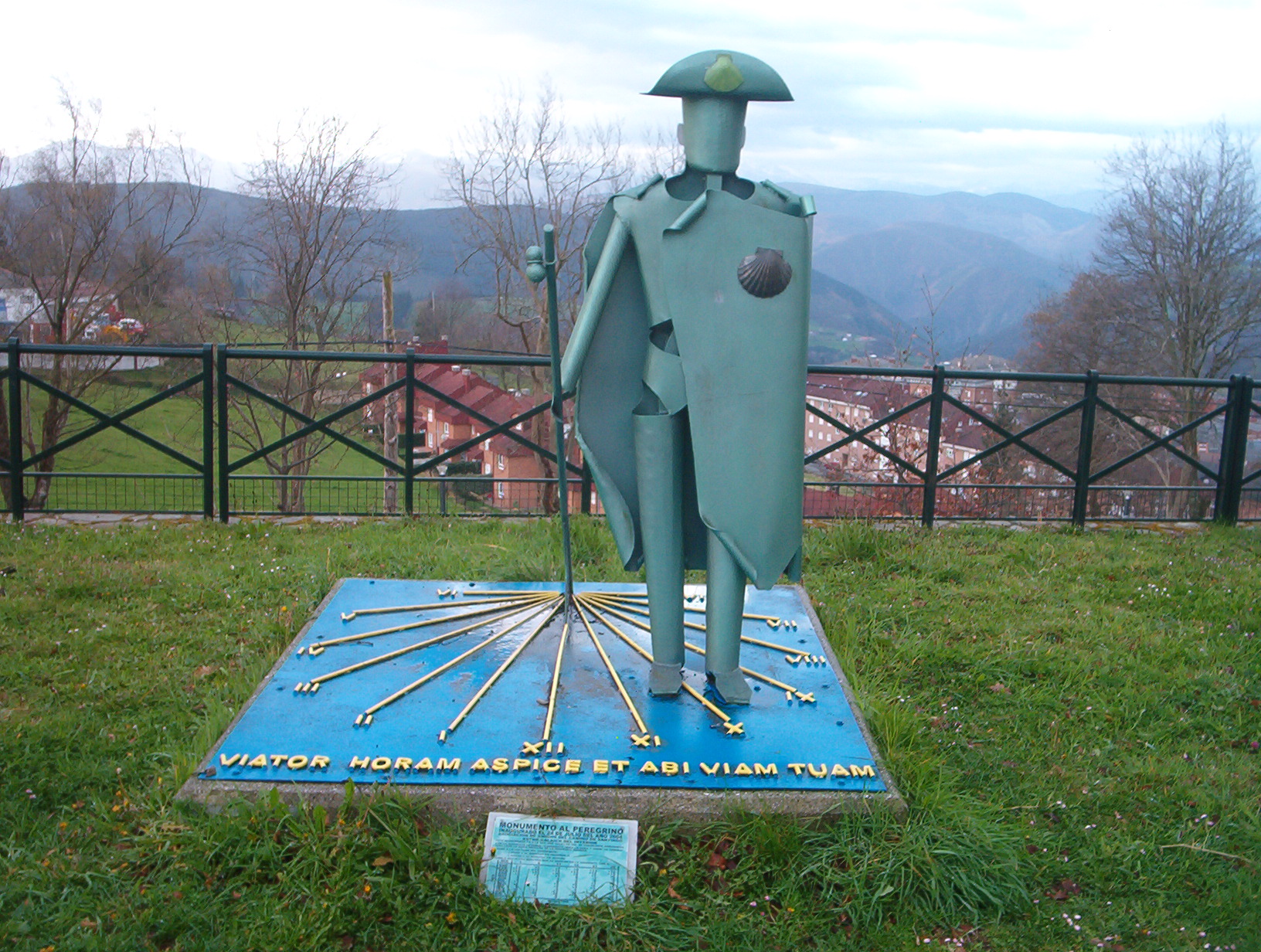 "Traveller, look at the hour and go your way!"
From Tineo to Campiello
Into the Heart of the Mountains
San Juan
Fountain
Leaving Tineo
Mountain
Wildflowers
Last of
the Filipinos
Wet Trail
With the cloud ceiling lifting over Tineo and a promise of actual sunshine after seven days of rain, I thought I could certainly make Borres at least, and possibly get even as far as Pola de Allande, the gateway to the "Roof of the Camino" at El Palo. But although the total distance to Pola (25.7 km) looks achievable, you have to reckon with the terrain, which does not climb sharply on this stretch but which is a constant challenge to your endurance and patience. In the end, Jaime suggested we stop at Campiello, about 3 km short of Borres, and I agreed.
In Campiello we met an enterprising Asturian lady, Sra. Herminia, who owns what in America would be known as a typical, traditional general store, if there were any still in business today. In addition to selling take-out food -- bread, cheeses, smokehouse products and drinks -- she keeps a small dining room and serves meals to pilgrims and locals. Nothing fancy -- just simple, hearty Asturian meals to power you across the High Country. Recently, she added a small seven-room guesthouse which functions as an Albergue Privado. She also provides various farm services, with her own warehouse for rental equipment. And withal, she still finds time to talk with and provide advice to pilgrims. I really liked her.
In the late afternoon, Herminia's bar fills up with locals who come for wine or orujo and conversation. I met an older man who had lived and worked in America for many years, and who wanted to talk American politics. I put him off by insisting on speaking only Spanish and saying that I didn't like any of the candidates. He got tired of this and turned to Jaime to discuss politics and society in Spain, which produced a far livelier discussion than I was capable of.
Carefully,
Downstream
Campiello Countryside
Casa Herminia
Jaime calls
his girl friend
¡Perro Peligroso!
Asturian
Take-out
---
Tips, Tricks, and Traps
One of Tineo's enduring claims to fame is the fact that in 1222, King Alfonso IX decreed that pilgrims to Santiago de Compostela following the Camino Primitivo must go through Tineo, and specifically, must pass by the Monastery of Obona. The decree has become voluntary: you may now make the detour to Obona to see the remains of the old Monastery, or stay on the waymarked path to Villaluz. On the belief that if you've seen one set of old monastic ruins, you've seen them all, Jaime and I skipped the detour and therefore I have no pictures of Obona to show you.
The Confraternity Guide mentions a useful bar at Alto de Piedratecha, about 6.5 km from Tineo. Sadly, the bar has closed and is reopening as a lady's hair salon, a mystifying choice given that nobody lives anywhere near the place. Who do they think will be their customers?
Okay, I was kidding about the perro peligroso above, but you might want to steer clear of the dog shown sleeping in the photo anyway. He's a glutton for attention: pat him once just because he's a sweet-natured dog and he'll paw your knee continually for more. When Jaime and I left Campiello, the silly mutt followed us as far as Borres, where I was finally able to wave him off.
---