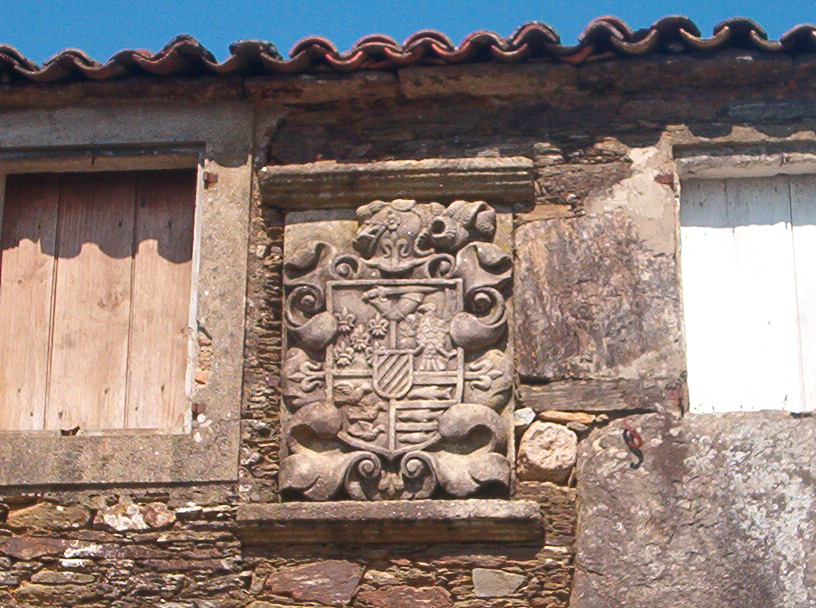 Stone Blason on a House
From Arzúa to Lavacolla
This day offers you a pleasant walk through rural districts and areas that stay semi-rural even as new housing spreads out from the Santiago urbanization. The terrain seems level or comes at you as low rolling hills, declining gently as you go. You pass through named areas like Boa Vista, which hardly count as villages, and you see survivals of earlier times even as the region develops in the new millenium. For example, to reach the old wellspring in the photo below, you have to come below the highway through an underpass, just visible at the left side of the picture. And you see the modern monument to English pilgrim William Watt. At full expansion of the photo below, you can just read the plaque: it says that in August 1993 he embraced God just a day's journey from Santiago. In the niche, among the stones, pine cones, flowers, and bits of trash that pilgrims have added in, you can see a bronze replica of the shoes he was wearing that day, when he climbed his own private Pico Sacro.
Gloomy Morning
Wisteria Lane
Wisteria &
Palm Tree
Guillermo Watt
Monument
Old Well-Spring
You pass by two Albergues in Santa Irene, but if you're coming from Arzúa, it's only early afternoon, and in good weather it seems a waste of good walking conditions to stop there. But you can get a sello for your credential.
When I came through here in 2001, I figured I was strong enough after 300 km along the Northern Road to make it all the way from Arzùa to the Monte de Gozo, a distance of some 35 - 37 km. I made it, utterly exhausted, but decided never to try that again. This time, my goal was more modest -- an old hostal I'd seen in Lavacolla. I never saw it this year (no two Caminos are ever quite the same), but in Lavacolla I came across a sign pointing me to "Servicios de Peregrinos -- 200 meters", with symbols for food and a bed. Sounded perfect, and turned out to be the modern Hotel Garcas shown in the photo. They had Internet access too!
The Official Santa
Irene Albergue
The Santa Irene
Albergue Privado
The Wasteland
Welcome to
Santiago
Lavacolla
Hotel Garcas
---
Tips, Tricks, and Traps
Walking conditions on this stage of the Camino are probably the best anywhere. The terrain is gentle, the paths are well maintained, and pilgrim services (coffee, cold drinks, pastries or bocadillos, and restrooms) are available frequently. Even if it's a long day, it's enjoyable.
One of the odd highlights of this stage is crossing just outside the end of the runway of Lavacolla Airport. If your timing is right, you may have the Wayne's World experience of seeing and hearing a plane landing or taking off directly above your head. You'll also see the area of wasteland shown in the photo, which I don't understand at all. It wasn't burned over, but looks rather as if somebody had sprayed the whole acreage with Roundup.
---