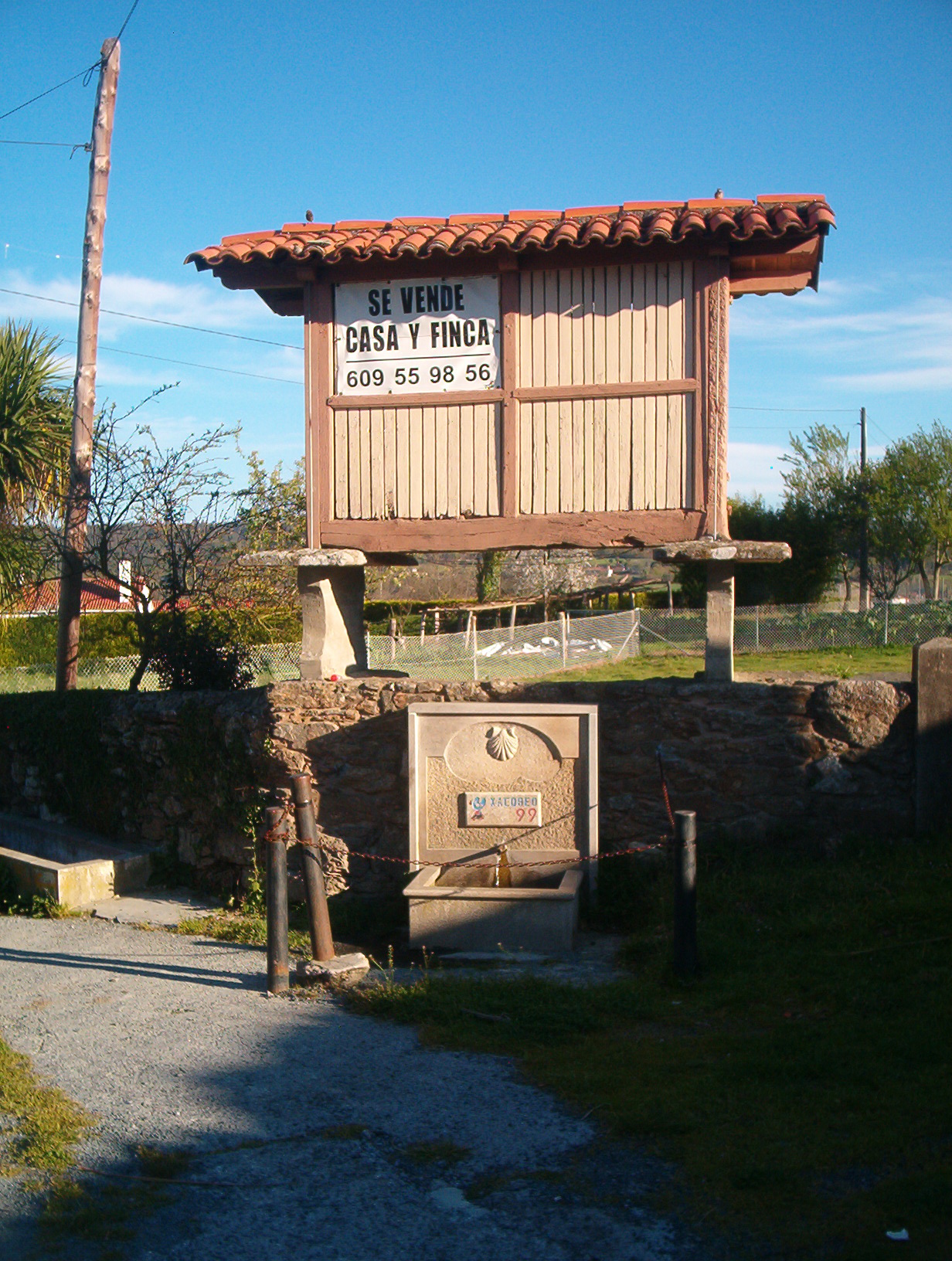 Welcome, Pilgrims! Xacobeo 99
From Melide to Arzúa
It's decision time again. The El Pais guide suggests that you should take on a 33 km day from Melide through Arzúa to O Pedrouzo. From there it's only 20 km into Santiago. Consider, however, the season you choose to walk in: according to the guidebooks, Pedrouzo has an excellent Albergue de Peregrinos, but in summer it can fill up quickly, leaving you no choice but to trudge on to a hotel in Lavacolla or the International Pilgrims Center at the Monte de Gozo -- a really long day's walk.
Or you could continue through Arzúa only as far as Santa Irene, a 30 km walk. Santa Irene has both an Albergue de Peregrinos and an Albergue Privado. At one time there were two restaurants nearby (and may still be, although I don't remember them).
Both times through here, my choice has been to stop over in Arzúa. It's a short day's walk from Melide, giving you a chance to do laundry (the Albergue has coin-operated washers and dryers!) and rest up for the final two-day push into Santiago ahead.
Natural
Lawn Service
Lawn Lambs
Public Fountain
Spring Wheat
The walk from Melide to Arzúa is a pleasant but uneventful 14 km. House dogs that would have barked furiously at you on the Primitivo are so used to pilgrims passing here that they don't even wake up when you go by. Various villages and small towns have bars or other places to obtain bocadillos or a good Menú del Día. The Santiago Church in Boente, between Melide and Castañeda, offers one of the two sellos you'll need this day for your credencial.
The most interesting sight of the day is the magnificent and luxurious Albergue de Peregrinos in Ribadiso. The place is 11 km from Melide, and only about 4 km from Arzúa, which raises the question, why put such a place in Ribadiso so close to Arzúa, and who should anyone stay there? My friend Jaime told me that on his previous pilgrimage along the Camino Francés, he and some friends stopped there because it looked so inviting, but decided that the Menú at the Mesón next door was too expensive. So they walked up to Arzúa to buy takeout and things to make supper and brought it all back to Ribadiso. He observed that his 2008 pilgrimage on the Primitivo made four times he'd walked between the two towns.
Observe the Camino directional sign just beyond the Albergue. The shell symbols point to the right but the arrow points left. Fortunately for your sanity, off to the right there's another shell pyramid (not photographed), reinforcing what the one in the picture tells you. This is the only example I found of messed-up waymarking on this Camino.
| Ribadiso Village | Ribadiso Albergue | The Albergue Mesón | Which Way? |
| --- | --- | --- | --- |
| | | | |
---
Tips, Tricks, and Traps
There are a growing number of places in Arzúa that call themselves albergues, but there's only onegenuine Albergue de Peregrinos. It's on the left side of the waymarked Camino near the back end of the church.
---